TRE Performance -
Accufab Throttle Bodies
Accufab manufactures the best high performance, maximum air flow throttle bodies on the planet. Whether for street, high performance or race, these mirror finished, billet aluminum throttle bodies are produced to outflow all others. All Accufab top-quality, billet aluminum, precision CNC machined parts are proudly made in the USA at their facility in Ontario, California. Sized for every performance need. Gaskets and hardware included with most styles.

Also, Accufab has a NEW throttle body for the Ford 1986-1993 Mustang 5.0L. Accufab created the ultimate, must have throttle body, the Big Daddy! Yes, this Big Daddy is sure to catch your eye by its impressive size, 105mm flowing 1504 cfm. This throttle body is unlike the others as it has a split shaft, rather than a single sided shaft. The split shaft is stronger and will help withstand the most intense pressure. These 105 mm throttle bodies come with a standard opening or clampshell clamp design. All this for just $319.99. Other sizes currently available are 65, 70, 75, 80, 85 and 90mm.

We an an authorized direct warehouse distributor for Accufab, and we can get you any part in the Accufab catalog for the best prices possible! If you can not find what you are looking for, just send us an email and we can ship your part the next day.

FREE Shipping On ALL Accufab Parts!!!
Select a Sub-Category
Accufab Throttle Bodies
Featured Products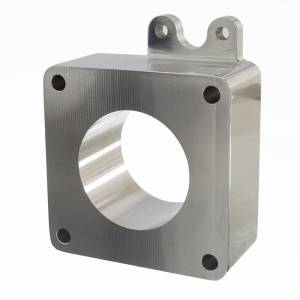 Description:
Accufab has developed three throttle body spacers to meet your needs. made from high quality billet aluminum and then polished to a mirror finish. these spacers are between the throttle body and...
More Details »
Item #:
BS/EGR/Cable Spacer
FREE Shipping when ordered with other parts.
---